Molten V5M5000-3N Indoor Volleyball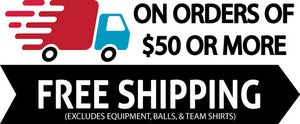 NOT ELIGIBLE FOR FREE SHIPPING
Official volleyball of NCAA® Men's Championships
• FLISTATEC® Flight Stability Technology
• Indoor use
• Premium micro-fiber cover
• Official size and weight
• 2-year warranty
As the official volleyball of the NCAA® Men's Volleyball Championships and the volleyball of choice for numerous collegiate conferences and programs across the nation, you can expect exceptional, top-of-the-line performance from the FLISTATEC. The original panel design and contrasting colors makes it easier to track the ball's rotation, increasing visibility for players and spectators alike. Its textured microfiber composite cover enhances grip, resulting in more accurate overhand passing and setting. By optimizing the air current around the ball and reducing turbulence, Molten's patented FLISTATEC Flight Stability Technology delivers the control and consistency athletes demand with every contact.
SHIPPING
Shipping Rates are $8.25-$9.95. Free Shipping for orders $50+.
The majority of orders are shipped within 24 hours via USPS Priority Mail which typically takes 2-4 days excluding Sundays and holidays.  UPS Ground will be used for oversized orders or products specifically labeled as "UPS Ground Only" (3-6 business days).
Good quality at this pricepoint
This is not a beginners or youth ball! Beginners will find this to be uncomfortable for learning the basics of the game. However intermediate to pro players who have experience with the "feel" of the ball in serving especially will really appreciate the firm consistency that the flistatec provides. Take care not to over-inflate though! The sweet spot for inflation is small.