Molten V5M5000-USA Volleyball Hammock Cart Package Deal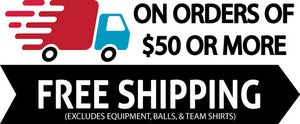 Great package price when combining 12 volleyballs and a hammock cart plus free shipping!
The Molten V5M5000-3USA is the official volleyball of USA Volleyball. Expect exceptional, top of the line performance including increased visibility, enhanced flight stability and more accurate overhand passing and sets. By optimizing the air-current around the ball in flight and enhancing grip, Molten's FLISTATEC® Flight Stability Technology delivers athletes the control and consistency that they demand with every contact.
SHIPPING
Shipping Rates are $8.25-$9.95. Free Shipping for orders $50+.
The majority of orders are shipped within 24 hours via USPS Priority Mail which typically takes 2-4 days excluding Sundays and holidays.  UPS Ground will be used for oversized orders or products specifically labeled as "UPS Ground Only" (3-6 business days).