Volleyball Training Bungee Blocker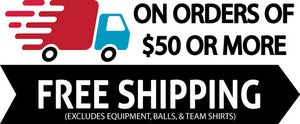 NOT ELIGIBLE FOR FREE SHIPPING. 
The ultimate volleyball blocking tool!
Constructed of lightweight aluminum and bungee straps to allow for game-like simulation in practice. Use the Bungee Blocker to improve hitting placement or as a coverage tool in blocking drills. Sturdy design allows for easy handling and use. One of the most affordable blocking options on the market!
Suggested uses: Use the Bungee Blocker for team drills and game-like simulation, individual hitting drills, and coverage drills.
Please allow 5-7 business days for delivery.
SHIPPING
Shipping Rates are $8.25-$9.95. Free Shipping for orders $50+.
The majority of orders are shipped within 24 hours via USPS Priority Mail which typically takes 2-4 days excluding Sundays and holidays.  UPS Ground will be used for oversized orders or products specifically labeled as "UPS Ground Only" (3-6 business days).