Molten V5M5000-3USA Indoor Volleyball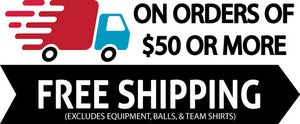 IN STOCK DATE - JANUARY 2024
NOT ELIGIBLE FOR FREE SHIPPING
Official volleyball of USA Volleyball
(THIS IS NOT A REPLICA)
• FLISTATEC® Flight Stability Technology
• Indoor use
• Premium micro-fiber cover
• Official size and weight
• 1-year warranty
The Molten V5M5000-3USA is the official volleyball of USA Volleyball. Expect exceptional, top of the line performance including increased visibility, enhanced flight stability and more accurate overhand passing and sets. By optimizing the air-current around the ball in flight and enhancing grip, Molten's FLISTATEC® Flight Stability Technology delivers athletes the control and consistency that they demand with every contact.
SHIPPING
Shipping Rates are $8.25-$9.95. Free Shipping for orders $50+.
The majority of orders are shipped within 24 hours via USPS Priority Mail which typically takes 2-4 days excluding Sundays and holidays.  UPS Ground will be used for oversized orders or products specifically labeled as "UPS Ground Only" (3-6 business days).
I'm amazed
I was skeptical about ordering these balls because of the price, but I did it anyway. When I received them and put air and inspected them, I said to myself, "these are not replicas". So I took them to a buddy of mine still skeptical and had them laser tested and, they are IN FACT real MOLTEN V5M5000-3 balls. Since then, I check every day or two to see if they are back in stock because I need about 20 more. They were shipped quick, packed carefully, and even came with the Molten net that often is under rated by many. Thank you, Gym Rats.
Great team
I received my product very quick which I did not expect.
My volleyball is great and I've been playing with it since.
A+
Great product
Very fast shipping and high quality product! Son was thrilled as he received for gift!
Easy transaction. As advertised